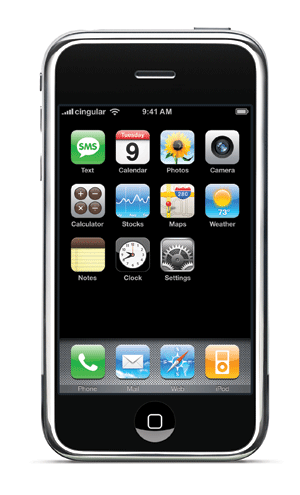 Many Apple addicts twiddled their thumbs awaiting the release of the 3G iPhone earlier this year, only to be disappointed by the by the quality of data reception when they got it.
Luckily for iPhone owners, jumping on a Wi-Fi network is an easy way to deal with sporadically crappy reception. Turns out the 3G in the 3G iPhone isn't quite what it was hyped (and hoped) to be, especially outside of NYC. Its coverage beats the very-slow EDGE network, but it's still extremely spotty.
Even iPhone owners with good 3G data receiption opt for Wi-Fi over 3G. Last week, San Mateo, Calif.-based mobile advertising company AdMob put out a report highlighting a rise in Wi-Fi usage among iPhone users.
In the US, 42 percent of iPhone Internet requests are made from WiFi, way higher than other Wi-Fi capable phones which average between 10 and 20 percent. 8 percent of total requests in November were on Wi-Fi networks, up from 4 percent in August, according to the report.
The ease of Wi-Fi connecting may be one reason the on-and-off poor receiption of the 3G iPhone is not keeping gadget lovers from purchasing the "invincible" device. Smartphone sales, largely fueled by iPhone sale growth, are defying economic gravity. Thank goodness AT&T bought Wi-Fi hotspots operator Wayport in November, upping the AT&T hotspot count to 80,000 Wi-Fi hotspots throughout the world.