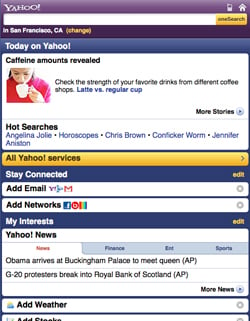 The mobile industry is looking a little bit purple today. Yahoo showed off its long-awaited redesigned Yahoo Mobile at CTIA. With Yahoo Mobile for the Web, Yahoo is making it clear that it wants a piece of the potentially lucrative world of mobile advertising.
The new look – one that seems to scroll indefinitely, depending on your personal customization – brings OneSearch, OnePlace and OneConnect together in a single application, this may be the boost – or at least a start – to getting Yahoo back on the right track against its arch nemesis Google.
Yahoo's new mobile hub on the Web is a highly customizable mashup of search, news, email, social networking, finance, sports scores, and your personal RSS feeds. OneSearch plays a large part in the design, it's featured up top and knows where you are at all times, with GPS or cell tower triangulation.
Then there's the new version of Yahoo Mobile for Java phones, which includes voice search by Vlingo and an Opera Mini browser. The app for smartphones will be available in May.