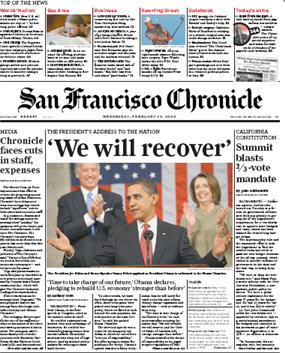 As print newspapers die a slow death, their owners are constantly looking for ways to make money through digital publishing. Hearst Media, a division of Hearst Corp. that publishes a dozen or so daily newspapers including the Houston Chronicle, San Antonio Express-News, and the San Francisco Chronicle, is no exception to the trend.
Hearst this week announced that it has selected Vancouver-based Tagga's technology platform to power mobile marketing opportunities for their advertisers.  Hearst has leveraged Tagga to integrate SMS marketing and mobile-optimized Websites into their sales offering. The newspaper giant offers a comprehensive portfolio of online, mobile and traditional print advertising, allowing their advertisers to keep pace with their consumer.
"Mobile provides instant interaction and access to information for readers who may not have immediate access to a computer. Tagga puts our advertisers' information on the handhelds and in the pockets of their customers," said Dan Lovelace, Hearst Newspapers Strategic Partnerships and Products Manager in a statement.
Tagga Media provides "everything" marketers need to create, execute and track mobile SMS marketing, build mobile websites and run mobile advertising campaigns including easy-to-use tools and rich analytics. Mobile websites built on the Tagga platform are automatically optimized for the majority of mobile phone devices in the market. The SMS feature in the Tagga platform enables marketers to build and execute a variety of types of SMS campaigns including mobile updates, voting, contests, and data collection.